Do you always have a choice of how high your ceiling would be? Many times, there is a standard ceiling height and sometimes, due to the architectural design of the house, you might have a high ceiling more than 10 feet long. In these special cases, you need to select the best ceiling fan for high ceilings if you want proper airflow and comfort in your room.
Without a professional choice in a high-ceiling room, you would end up spending your money but not getting what you really wanted. In this short review, we will help you choose the exact ceiling fan for a high ceiling.
Our Picks
Things To Consider Before Buying A Ceiling Fan For High Ceilings
It is essential to choose the best ceiling fan for a high ceiling, otherwise, you will end up buying a fan that will not serve your purpose. Since there is mostly one particular adjustment required – the size of the downrod, we can also look into other factors.
Mounting System: Ceiling fans must have proper mounting positions. The high ceiling requires a long downrod.
Installing Location: Consider if you need a ceiling fan for the pouch or patios for the outdoors, or if you need an indoor fan placement. The location matters because the outdoor ceiling fan can withstand a wet and damp environment.
Room Dimensions: When choosing the indoor ceiling fan size, consider the room size. Check our room size and the dimension guide of the fan you can use.
Height of the Ceiling: The height is significant when deciding on the height of the downrod piece. You need at least seven feet of distance between the floor and your ceiling. The ceiling-floor distance also determines the length you need for the downrod when mounting the ceiling fan.
Type of Control: Check whether the ceiling fan you want to buy has a pull chain model, remote controls, smartphones, and voice prompt. Depending on your budget, get a fan with the type of control that favors you.
Number of Blades: Good air circulation requires that you go for the number of blades with a proper design. The angled positioning and the number of blades are what separate a noisy indoor ceiling fan from a quiet one.
Best Ceiling Fan For High Ceilings Review and Comparison
1) Monte Carlo 3MAVR60BK Maverick Energy Star 60" Outdoor Ceiling Fan with Remote Control, 3 Balsa Wood Blades, Black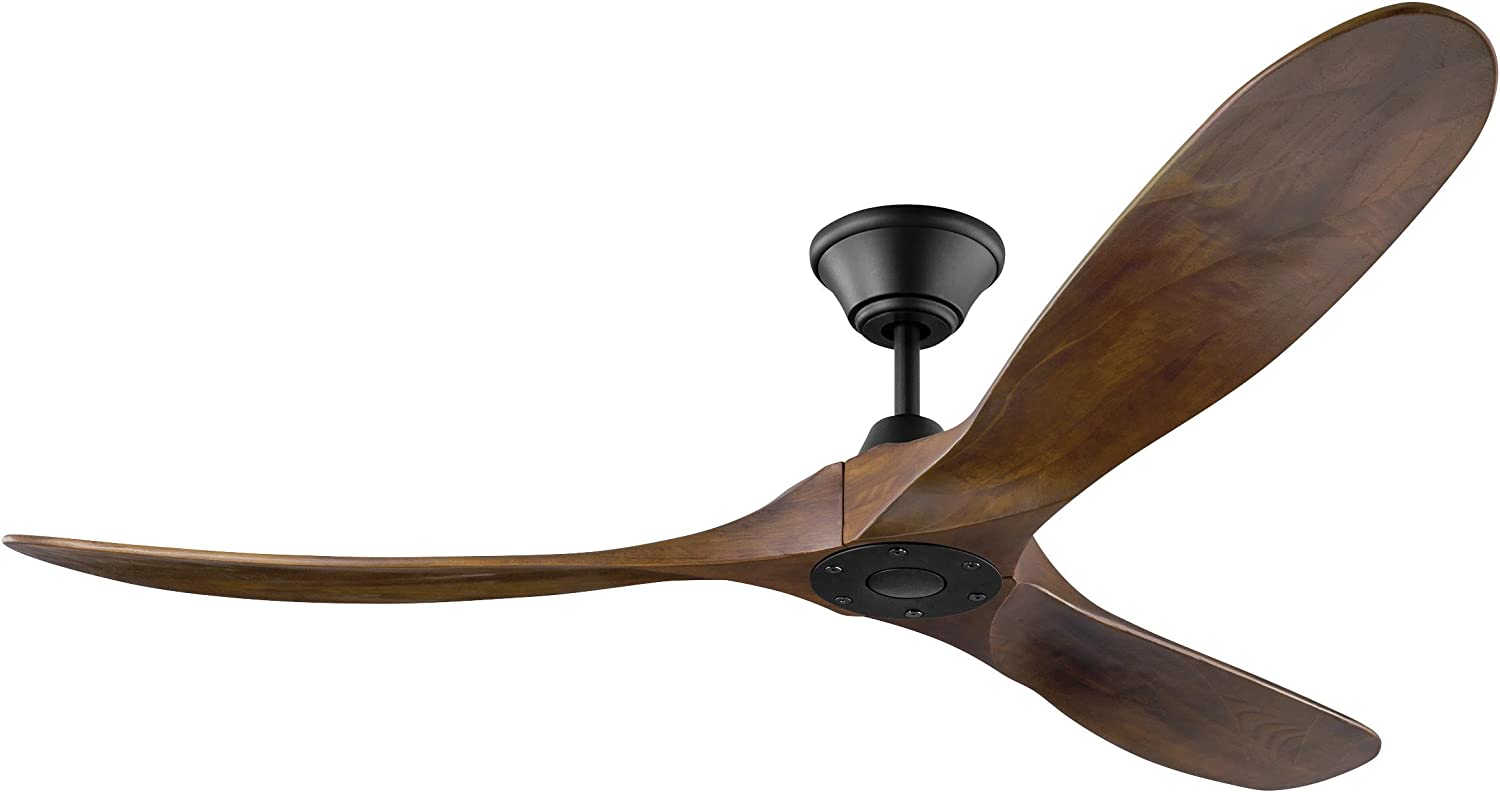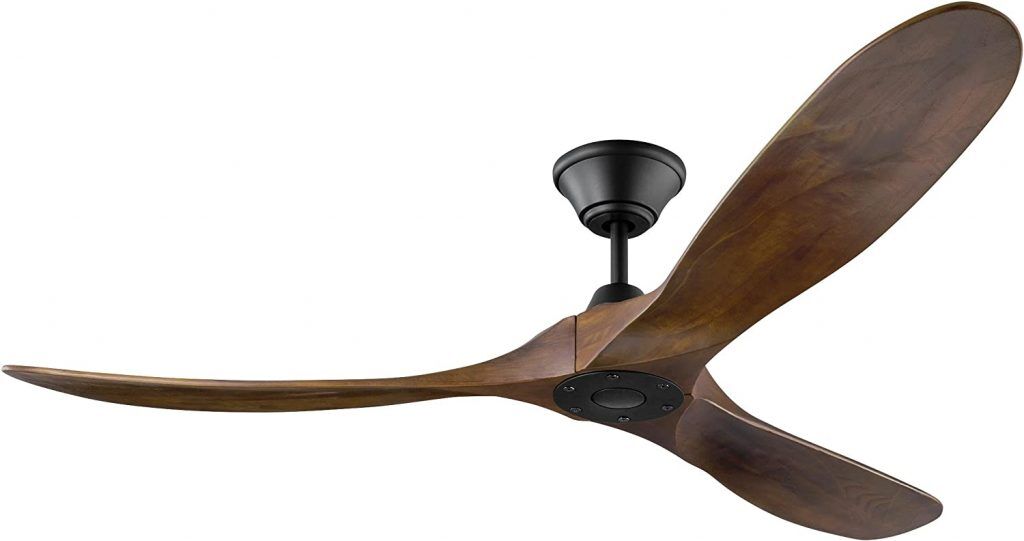 Monte Carlo Maverick collection is the best in its category. Having an excellent finishing of hand-carved blades, bold style statement, energy efficiency, damp rating, and adjustable downrod, this fan is exclusively suitable for high ceiling rooms. The ceiling mount and downrod feature along with a wet and damp rating make it the best fit for both indoor and outdoor ceilings.
Features and Benefits:
Dimensions: Its diameter is 60 inches which is suitable for a large high-ceiling room. It includes a 6" downrod which can be exchanged for a higher ceiling if you desire.
Fan Blades: 3 outdoor wet-rated fan blades with soft hand-carved balsa wood that maximizes the airflow.
Remote Control: The fan has a reversible function to be adjusted in weather conditions which can also be controlled by the 6-speed hand-held remote.
Energy Efficient: The quiet DC motor offers 50% energy savings while performing at its best.
Installation: The fan is usually suitable for flat ceilings with the included hardware. It can also be installed on a sloped ceiling up to 15 degrees.
Look and Feel: The design of the ceiling fan is highly suitable for traditional and modern ceilings. With a sleek silhouette and hand-carved blades, the fan is beautiful, strong, and well built.
Pros:
Stylish and suitable for bedroom, living room, and dining room
Excellent airflow sometimes blows the air of the surrounding room
Quiet with energy-efficient DC motor
Cons:
The fan cannot be integrated with smart devices like Siri/Alexa
Sometimes the fan shakes and makes a ticking sound due to improper installation
From an overall ground, the fan is a value for money with its gentle breeze airflow. It has different dimensional options in terms of diameter and downrod which is essential in many cases.
2) Minka Aire F844-DK, Light Wave 52″ Ceiling Fan with LED Light Kit in Distressed Koa Finish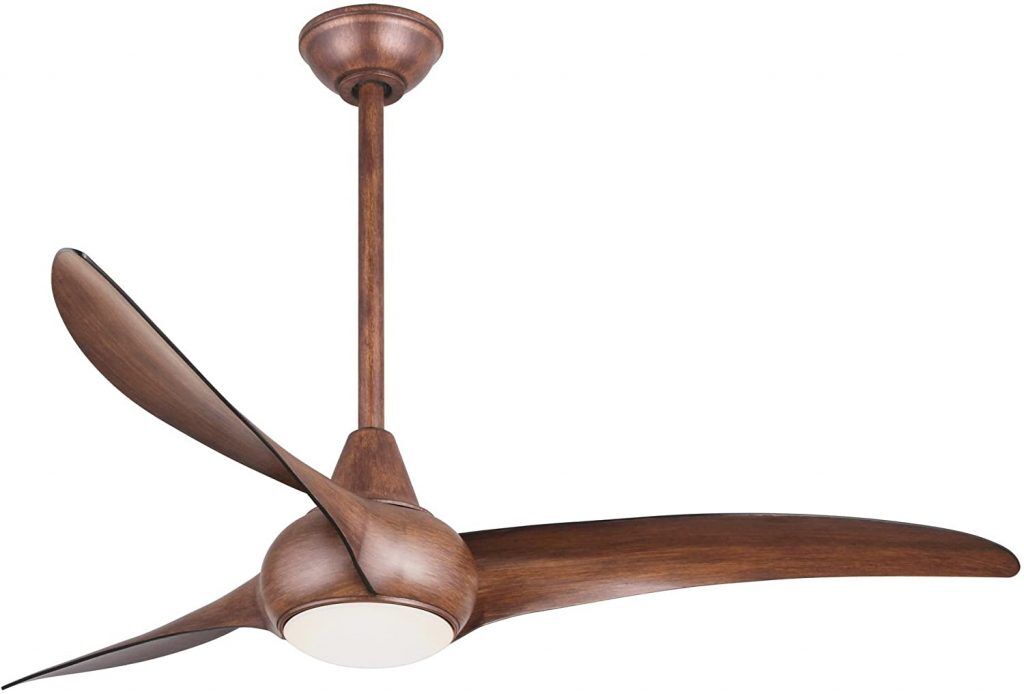 Minka Aire F844-DK indoor ceiling fan features three koa blades with a distressed body design. The uniqueness in its design moves air through any room with an efficiency of 4531 CFM while at the same time adding sleekness to the living space. The Integrated LED lights are dimmable, producing a soft and visual aesthetics, which frees you from the burden of replacing bulbs.
Features and Benefits:
Style: Minka Aire Light Wave has an eye-catching unique design and modern styling. It adds sleekness and versatility to any of your living space.
Dimension: 52" blade design can move the air through any room with ease.
Lighting: It includes a 16-watt dimmable LED light in white opal glass. This serves your aesthetic purpose and lighting requirement as well.
Remote Control: Use the remote control to manage the 3-speed cooling and lighting effect of the indoor fan giving you full control.
Downrod: The product comes with six installation downrod (60, 48, 36, 24, 12 & 3.5″ configurations) to ease your customization needs that complement the height of your ceiling.
Smart Control: This is a Wi-Fi-compatible fan to be integrated with your home system or via mobile phone using the Bond technology hub BD-1000.
Pros:
The Koa finish on the blade is a patent that guarantees the best performance
During winter, enjoy the heat coming from the warm via the reversible option, and energy-efficient, dimmable LED lights
Moves a lot of air and is nearly silent
Cons:
Some customers do not like the harsh white light coming from the LEDs
Others complain about being a little noisy motor
From an overall ground, you can use the ceiling fan throughout the year and be able to get that level of comfort you are not likely to find anywhere. Do you want to add more flare to the room? Use the Minka-Aire indoor Ceiling Fan that will leave your guests asking where to find a similar installation.
3) Honeywell Ceiling Fans Honeywell 50608-01 Xerxes Ceiling Fan with Remote Control, 62″ Blades, Brushed Nickel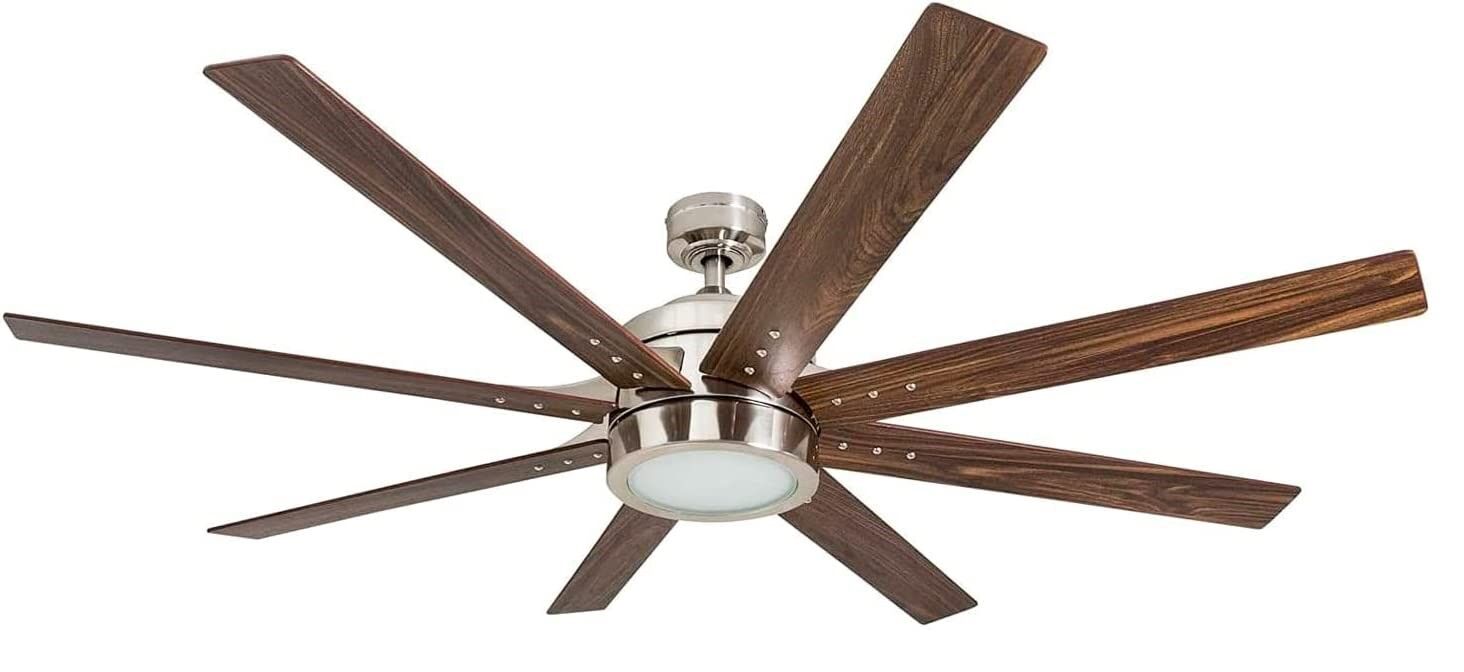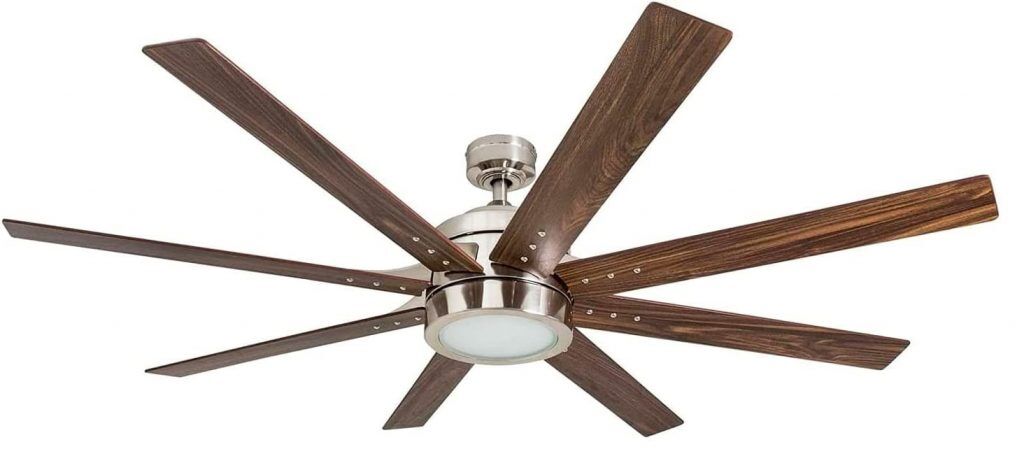 The 8 blades Honeywell ceiling fan is perfect for any large indoor space. This contemporary and traditional ceiling fan is suitable for many styles. It offers two blade finishes, one of which you can use from any side. With a dual mounting option for downrod and angled ceilings, the fan also offers a reversible motor for year-round comfort.
Features and Benefits:
Fan for Big Spaces: The 62" blade span, 8 blades, and dual mount compatibility make them extremely suitable for large high ceiling spaces. The dual-finish fan blades give this fan a very rich and wholesome allure.
Integrated LED: The 18-watts LED is enough to light up a room. Besides, it has a dimmable feature to adjust your needs.
Remote Control: The universal remote-control feature along with the wall dock feature makes it more interesting. It has 3-speed settings, easy installation, and batteries included. Options for compatible with Google Home and Alexa with a Bond Home.
Quiet Motor: The reversible feature allows to change the direction of the fan when required. The 3-speed power motor is very convenient to perform.
Dual-mount compatible: It has the option for handing the fan in an angled ceiling (angle bracket sold separately), or in a standard ceiling with the given 4" downrod.
Position: The fan is intended for indoor use only.
Pros:
Easy to install with an additionally purchased downrod to adjust the height of the ceiling
Firm industrial look and suitable for heavy use
Super airflow that cools your room on hot summer days
Cons:
If you are not professional, do not try to install it for the first time
The fan has no wet or damp rating – indoor use only
The amazing feature of this fan is its big size, timeless look, adequate airflow, and superior quality. You can highly rely on this Honeywell fan for using it years ahead.
4) Big Ass Fans Haiku L Smart Ceiling Fan, 52″, Caramel/Black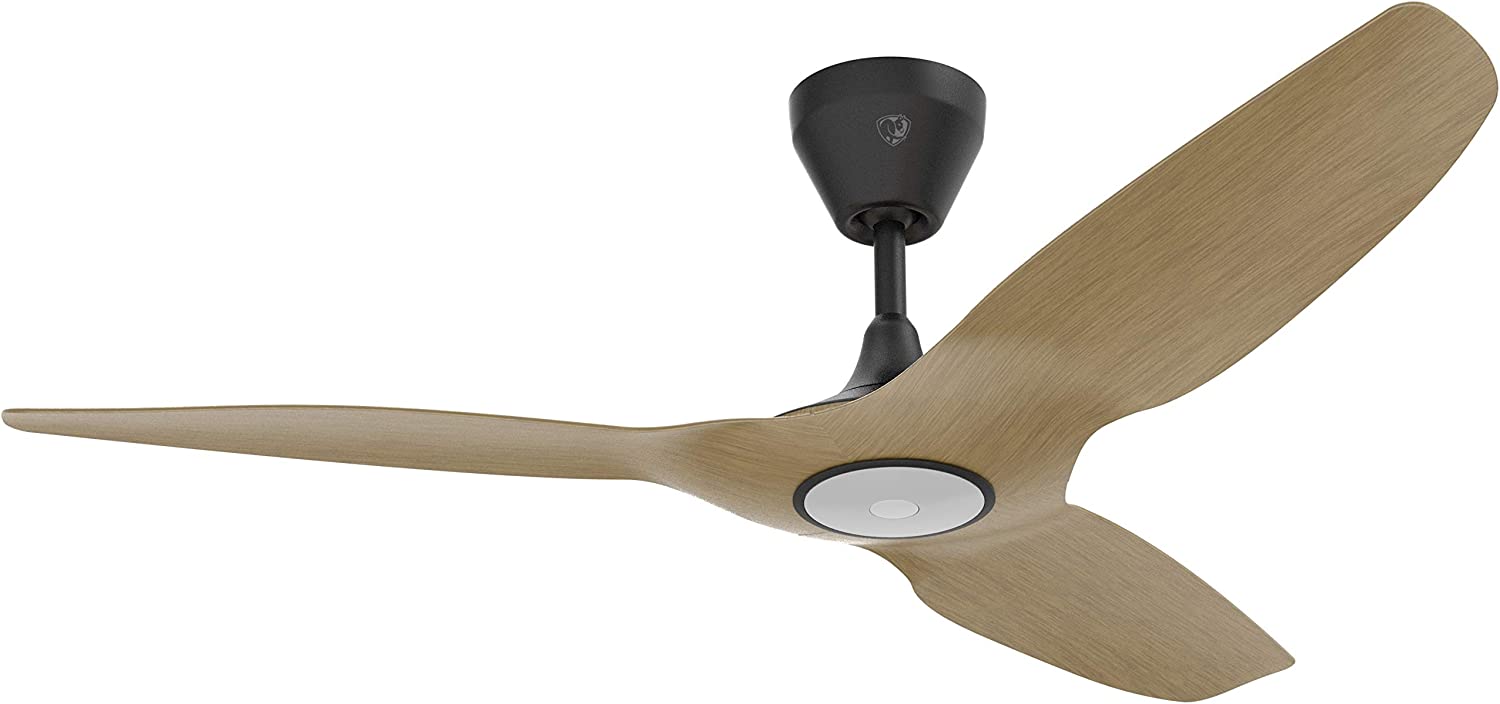 The Big Ass Fans Haiku L Smart Ceiling Fan is one of the top ceiling fans all the time. The airflow delivery is exceptional and reaches up to 5604 CFM. The award-winning indoor ceiling fan offers more sophistication to your living space with modern forms. The fan lighting and speed can be handled using a remote control or via an app running on your smartphone through a Wi-Fi connection. Other methods of controlling your indoor fan are by using an Alexa-enabled device or Google Assistant.
Features and Benefits:
Light Settings: The 60-watt integrated LED bulb has 16 different brightness levels fit for every occasion. The LED is expected to last 30 times more than a regular LED.
Fan Setting: The three blades have a 7-level speed setting that includes sleep mode, whoosh mode, eco mode, and timer.
Remote Control: It includes IR remote control with a wall mount housing feature, by which you can control the fan from a long distance.
Smart Features: This fan is very trendy because of its smart features. The fan can be controlled from the Wi-Fi module via the Haiku smartphone app, Amazon Alexa, and Google Assistant.
Energy/Power Saving: Up to 30% on cooling costs with reduced AC runtime. Powerful motor but with exceptionally little power consumption.
Pros:
The fan receives control from the most modern forms of technology applications such as Alexa's voice command, Google home assistant, mobile apps, and remote control
The silent operation equates to a superior airflow
Suitable with Haiku wall control unit
Cons:
The cost of the fan is not pocket friendly for many buyers
Some customers find the app difficult to use
Intended for indoor use only
This fan revises all the old concepts of a ceiling fan – pull chains to constant rattling, and gives you round comfort of controlling it with ease. The minimalist luxury design along with powerful airflow makes this fan unbeatable in its special signature segment.
5) Westinghouse Lighting Westinghouse 7861400 Industrial 56-Inch Three Indoor Ceiling Fan, Brushed Nickel Steel Blades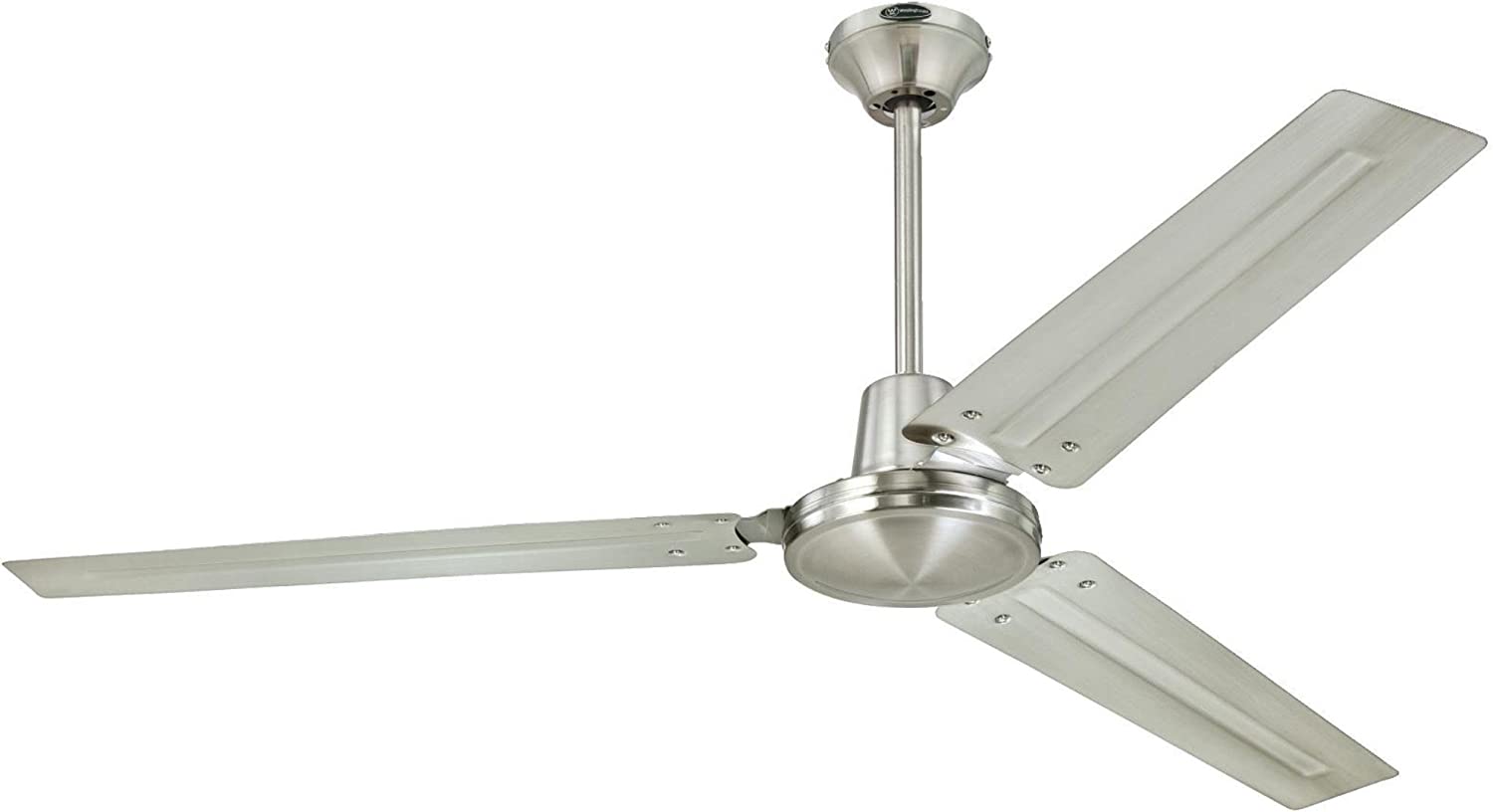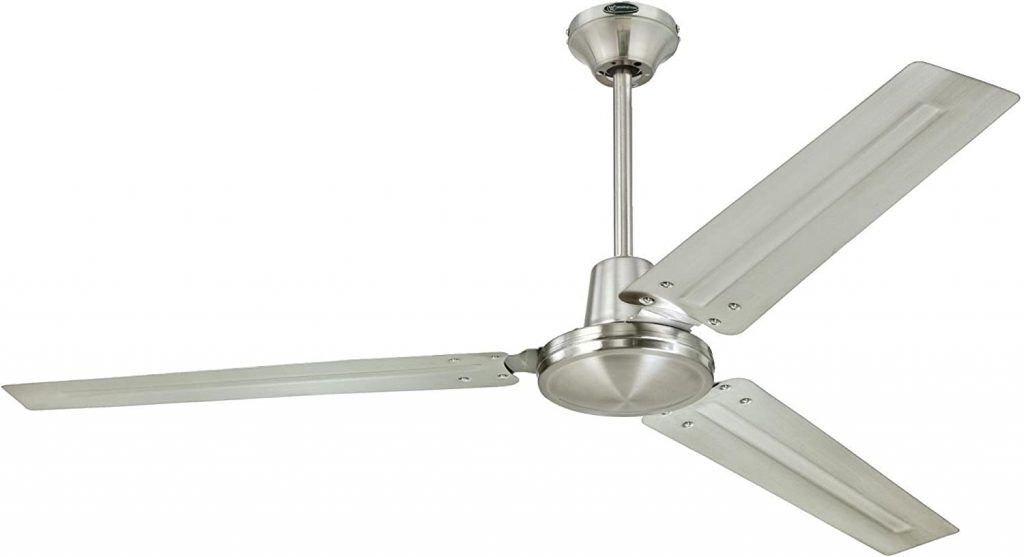 Westinghouse lighting industrial 56-inch ceiling fan is a highly durable fan for heavy industrial, commercial, and residential applications. The fan is recognized for heavy use and is exceptionally good at cooling larger work and living spaces, such as workshops, high-ceiling great rooms, two-story entryways, etc. This fan is suitable for those who want a heavy-duty fan at a lower price point.
Features and Benefits:
Intended use: This indoor 52-inch fan is ideal for great rooms up to 400 square feet. For any kind of heavy-duty, the fan is ideal. The fan is intended to be used at least 10 feet above the floor.
Steel Blade: It includes brushed nickel steel blades which makes it strong enough to run long hours.
Motor Performance: High-quality motor that delivers powerful airflow and quiet performance.
Wall Control: the fan includes a five-speed wall control which is easy to operate.
Pros:
Moves a lot of air and is quiet in nature
The price is very convenient and worth value for the money
The fan is highly suitable for high ceilings
Cons:
The fan does not include reversible technology
6) Home Decorators Collection Kensgrove 72 in. LED Indoor/Outdoor Espresso Bronze Ceiling Fan YG493OD-EB

The Kensgrove 72 in. LED Indoor/Outdoor ceiling fan is the ultimate package for any large room or loft in your home. It features eight blades, a rich espresso bronze finish, and a dome-style light kit with a frosted opal glass shade. The fan is weather-resistant and can be outdoor without any second thought. It also comes with DC motor technology to save on your energy bills.
Features and Benefits:
Elegant Design: This fan transforms any large area or loft in your home with the most cooling breeze in a single effort. This decorative ceiling fan can also be a good choice for outdoor spaces like porches and patios.
Weather Resistant Maple Blades: It includes eight weather-resistant maple blades that push out 9,330 CFMs for maximum cooling. The UL wet-rated build quality is one of the best fits for indoor or outdoor use.
14-Watt Light Kit: It includes a dome-style light kit with a frosted opal glass shade. The 14-watt LED light source is set at 3000K temperature to produce a warm white ambiance to give you a comfy sleep when you need it the most.
Energy Efficient DC Motor: Despite being so mighty, the fan's energy-efficient DC motor runs very quietly. The DC motor has a nine-speed setting which is three times as many as traditional ceiling fans have. The energy-efficient DC motor technology saves a lot on your energy expenses while running on high on only 31-Watt.
Handheld Remote: The handheld remote control operates this fan with independent light dimming and speed control, a battery is included.
Reversible Motor: Reversible motor technology to keep you cool in the summer and circulate the warm heat down in the winter
Other Noticeable Specifications: Dimensions (L x H): 72 in x 13.8 in, threaded downrod 4-1/2 in. L x 3/4 in. dia for tighter stability; Mounting Type: Angled Mount, Downrod Mount, Flush/Hugger Mount
Pros:
Cons:
The fan is much bigger than the usual size to be installed with a supporting hand
A little more expensive for a few buyer groups
The Kensgrove is intensively suitable for fulfilling your large spaces. Over the years it got its reputation for its very cool and quiet performance.
Why Trust The Home Impro?
As a buyer, you must ensure that the money you spend is commensurate with the defining features of a particular product. The thought of owning a home appliance is a good idea if you intend to enhance the aesthetic value of your home deck.
So, we the experts at The Home Impro team scoured the internet and evaluated all the above products in the market. We have brought up some of the characteristics and honest reviews, and we hope that should guide you for the right purchase.
Buying Guide
There are multiple options for ceiling fans for high ceilings. The choice of a specific ceiling fan model depends on your need for aesthetic appeals, power consumption, and room layout.
If you have a very large bedroom or living room that needs both light and very high airflow, then Honeywell 50608-01 Xerxes Ceiling Fan or Home Decorators Collection Kensgrove is a good option.
Monte Carlo 3MAVR60BK Maverick Energy Star Ceiling Fan will reduce your electricity bill drastically. Minka-Aire F844-DK Ceiling Fan or, Big Ass Fans Haiku L Smart Ceiling Fan, 52″, White will give you the best smart operating options.
Frequently Asked Questions (FAQs)
1. Do ceiling fans work with high ceilings?
Yes, ceiling fans are just fine in the high-ceiling rooms. But there are two things to consider: either they have to be larger to provide the best airflow, or you may need to use a long downrod to adjust the height.
2. How do you circulate air in a room with a high ceiling?
If your fan has a reversible option, set the fan to turn counterclockwise at a high speed in the summer. Set the fan to turn clockwise in the winter to circulate warm air in the room.
3. What is the best height to hang a ceiling fan?
For a standard room size, ceiling fans should be hung at least 7 feet above the floor to give the airflow and to keep things safe from it. If you can keep it 8-9 feet above, then it is the optimum. For a high ceiling, the fan should be adjusted accordingly.
Bottom Line
Technically, a high ceiling is an opportunity to design the room in a unique way. Hanging up the best ceiling fan for high ceilings compliments the room with its full aesthetic inspirations. To choose the best ceiling fan, mainly you need to decide on two things: the large dimension of the fan, and the long downrod to adjust the fan at an optimum height.
We have tried our best to review the best fans in this particular sub-category. Do keep in mind the considerations before buying a particular fan as per your need.